CASHMERE IF YOU CAN S-2
Jamie Boys & Federico Joni
September 12 –October 10

Opening Night: Friday September 12 (6pm – 9pm)
As part of the Fringe festival, CASHMERE IF YOU CAN S-2 by JAMIE BOYS and FEDERICO JONI will explore the behavioural foundations of 8-14 year olds and the power of the new commercial market for "TWEENAGERS" to create and satisfy their every desire. This will be an exhibition of aristocratic extravagance and lavish absurdity where childhood innocence and playtime are things of the past. It is about making it to the top, looking good and getting there fast. It is where the underclass tries for a slice of the cake, where eating disorders, department store tantrums and manipulation achieve results. The CASHMERE IF YOU CAN series of exhibitions created by Jamie Boys began in 2007. CASHMERE IF YOU CAN S-2, featuring in this years' Fringe, presents the second stage of the project. The aim of the group is to hold one exhibition per year over a period of seven years. Each year the group acquires a new artist until there are seven artists for the final show. The consecutive shows each represent chronological seven year cycles of life and deal with the processes in which we gain the necessary life skills to adapt, survive and maintain a competitive edge.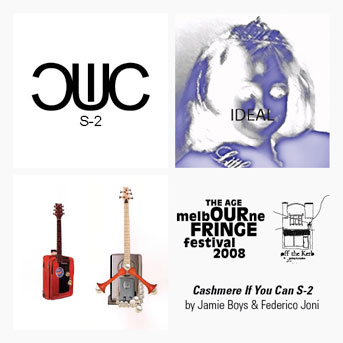 RETURN TO SENDER
Rhiannon Smith
September 12 –October 10
Opening Night: Friday September 12 (6pm – 9pm)
Return to Sender explores romantic notions of communication in a technological age where personalised touches are so often missing from our interactions with one another. From a world of emails, bank statements, mobile phone and electricity bills comes a collection of jewellery inspired by the seemingly lost art of love letters, break-up letters, care packages and parcels. The art of letter writing in all its forms has a tactile quality that is also intrinsic to this body of work. These handmade objects seek to bring the simple envelope to a new level of meaning, one that involves the sentimentality we encounter in those increasingly rare interactions.